EVER HAD A BASS...
that played just like your hands were immersed in a nourishing, mineral-rich paste of cornmeal and spittle? Nor have we. Though Dewey Decibel's BottomOut™ nearly approaches that level of fun!
Not just a handsome low-toned tool, the BottomOut displays certifiably expert workmanship, and the highest attention to detail. All this to deliver an instrument of utmost enjoyability – one that is sure to keep fans and friends raising your legendary stature for decades to come.

Dewey Decibel is proud to finally introduce – something for the deep thinkers. And man is it deep!

GET YOUR BOTTOMOUT TODAY!


Who Is Dewey Decibel?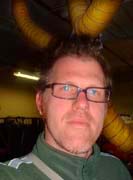 Recent emigre to the San Francisco bay area, company president Dewey Decibel embarked on the craft of instrument design as a natural outgrowth following years spent both as a musician and a graphic designer on the east coast.
Dewey has recorded 3 albums plus 1 EP of off-kilter pop stylings for Colonial Martian Records. The latest collection "Unnecessarily Beautiful" has become a surprise hit among the unhappy suburban divorcee set.
Click here for additional info on Dewey Decibel.